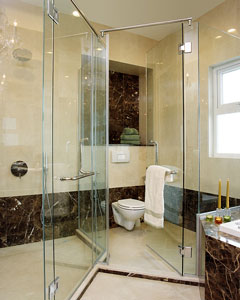 The type of shower door you choose can often affect the whole look of a bathroom. While the size and layout of your bathroom may determine how large you shower will be, shower door choice can visually either close in the shower area or open the view right through to the shower walls. What kind of doors will make your shower useful but aesthetically pleasing as well? Take a glance through the following paragraphs and pictures, and determine what shower doors are best suited to your needs, tastes, and budget.

Shower doors are basically used to keep water in the showering area. They do a better job than a shower curtain, are easier to clean, and last a lot longer. They may be installed over a tub, as part of a one-piece shower unit, or to surround or close the entrance to a custom shower. The doors are manufactured as by-pass, sliding doors, hinged-swing doors, or doors with side lights. Sliding doors are the most frequently used type. Curved doors work well for a corner shower and curved shower bases. Swing doors are generally hinged to swing out; they need to be sized so that they won't hit other bathroom fixtures. Side panels or side lights may be used to fill gaps in a wider space.

Shower doors are framed or frameless. Framed doors have a frame surrounding the glass. The frame is usually made from anodized, extruded aluminum. Frameless doors have no frame, but the tempered glass used is heavier and thicker and quite durable. The edges of the glass are rounded and smoothed.

Basic shower doors that fit a tub/shower or shower stall are readily available at your local home center in finishes such as chrome, gold, white, bone or brushed nickel. Shower door glass might be clear, bronze, gray, or patterned. Shower doors are manufactured with tempered safety glass, just like your car windows. Look for doors that glide smoothly and have an "L" shaped track that's easy to keep clean. Measure your area carefully; then find the right size, style, and color door. You might have to order one to your specifications. Take the doors home and then, using a few hand tools and following the instructions provided, you can install a functional, attractive shower door.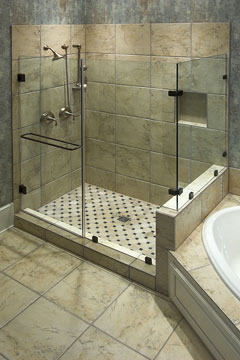 Custom shower doors can be manufactured to fit any shower space. You might use curved, angled, or straight panels of glass. Hinges, handles, clamps, header tracks, and a myriad of other devices allow the glass panels to be attached as desired. This enables a designer to create unique showering areas. Curved glass doors can be produced for an exact curve. Often designers choose clear glass so special tiling, polished stone, or other wall materials are visible through the doors and the space looks larger. But the glass can also be opaque or patterned. Some doors are etched or even use stained glass. These custom shower doors and surrounds are best installed by a professional.
Once your shower doors are installed, keep them clean, especially if the glass is clear. You will find these sparkling doors not only protect your bathroom from spray, but also give it a glamorous, spa-like appearance. The vendors listed below offer a varied selection of shower doors and enclosures.
---
Copyright © Shower-Stalls.com. All rights reserved.
Shower Stalls - Shower Doors